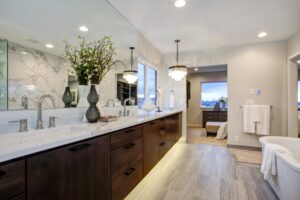 Bathroom cabinets may not be at the forefront of your mind during a large-scale renovation. But, revamping this part of your bathroom storage can have a significant impact on this essential room's ambiance. 
When selecting your new bathroom cabinets, keep these tips in mind:
Start With Dimensions
The dimensions are an important first step in choosing bathroom cabinetry. The height, length, and width of the available space (as well as the layout of your bathroom) will largely dictate how the cabinets are installed. The dimensions will also affect the location of mirrors, water fixtures, outlets, etc. So, to create a framework for your cabinetry, start with the dimensions.
Don't Skim Over The Budget
Unless you have a truly unlimited budget, the amount you'd like to spend on new bathroom cabinets should be a key deciding factor while you shop. Cabinets can range greatly in price, from a few hundred dollars to thousands of dollars, so set a clear budget at the beginning. This will narrow down the available options, making it easier to choose. 
Determine Your Desired "Vibe"
We've already mentioned that the cabinets can dramatically change your bathroom's ambiance, or "vibe",. So, what vibe are you going for? Sleek and sophisticated? Clean and serene? Perhaps quirky and colorful? In any case, you can find cabinets that reflect your aesthetic vision. 
Go Over Your Material Options
Bathroom cabinets come in a wide variety of material options, each varying in price, durability, and appearance. Wood, the most common choice, comes in countless varieties, from maple to oak to cherry and more.
Particle boards and MDF (medium-density fiberwood) are more affordable alternatives to real wood. Though these materials mimic the appearance of wood, they don't offer the same durability.  
At Modern Cabinetry, we offer custom home cabinetry in Tampa for your bathroom and beyond. Contact us today to get started!