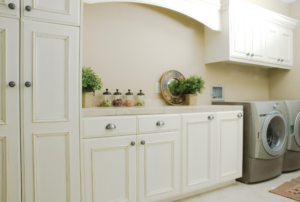 The laundry room may not be the first area of your home that comes to mind for renovations. But, virtually all households can benefit from an organized laundry room with exceptional storage. Simply revamping your laundry room's cabinets could streamline your weekly chores. 
Here are our top cabinet ideas to maximize the function of your laundry room:
Multi-Purpose Storage
In many households, the laundry room doubles as a mudroom, pet room, or even a playroom for the kids. In these instances, multipurpose cabinets and storage solutions can help you make the most of your square footage. 
For example, if your laundry room also serves as your mudroom, consider open shelving with a built-in bench. This storage solution offers space for cleaning supplies, extra towels, coats, and more while providing a place to put on your shoes. 
Floor-to-Ceiling Cabinets
Floor-to-ceiling cabinets can provide a space to store an ironing board and other bulky laundry items. They can also be positioned around the laundry machines to create a built-in feel. We love floor-to-ceiling cabinetry because it allows you to maximize the storage space on both high and low shelves.  
Glass Cabinets
Glass cabinets provide the perfect middle ground between open and closed shelving. The glass cabinet doors will help open up the space with the option to hide away items that you don't want on display. Plus, glass cabinetry will help reflect light throughout your laundry room, giving it a lighter and brighter feel. 
A Cabinet Between Appliances
If your laundry room is short on space, don't waste those few inches between the washer and dryer. Consider installing a small pull-out cabinet in this area to stow detergent, dryer sheets, washcloths, and other small items. 
The team at Modern Cabinetry & Millwork Inc. can help you achieve the laundry room of your dreams with top-quality custom cabinetry. Contact us today to get started!