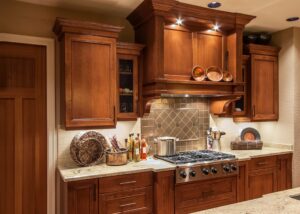 Cabinets have a significant impact on the appearance of your kitchen. So, when you're selecting cabinets for your home, it's important to choose wisely. Thankfully, there are countless cabinet options available today, making it possible to find the perfect fit for your kitchen. 
Here are our top tips for selecting kitchen cabinets for your home:
Consider Existing Decor
The existing decor and overall style of your kitchen should be a key consideration in your choice of cabinets. Or, if you plan to alter your kitchen's style, ensure that the new cabinets will align with your vision. From the size to the finish and everything in between, the cabinets' design elements will impact your kitchen's overall vibe. 
Review Wood Options
There are several different options of wood that you can select for your kitchen cabinets. Budget, aesthetic preferences, and durability, among other factors, should all factor into your choice of wood. 
Some of the most popular wood varieties for cabinets include:
Oak

Pine 

Cherry

Hickory

Maple 
Think About Storage
Installing new cabinets gives you the opportunity to maximize your kitchen's storage. Especially if your kitchen is relatively limited in size, the cabinets can be a game-changer in the storage department. 
For instance, cabinets that are several feet high can waste storage space. However, you can have drawers or shelves installed to make the most of that vertical space. Plus, adding drawers or shelves provides the opportunity for further organization. 
Don't Forget About Organization
Speaking of organization – kitchen cabinets can be designed in a way that satisfies all of your organizational preferences. For example, consider the tools that you'd prefer to have stored near specific appliances. If you love cooking with many different spices, consider a cabinet design that can seamlessly stow away every last little jar. 
Opting for custom kitchen cabinets will ensure that your cabinetry fulfills all of your unique needs and preferences. Contact Modern Cabinetry to get started today!